News Archive
2023

2022

2021

2020

2019

2018

2017

2016

2015

2014

2012

2011

2010

2009

2008

2007

2006
News - 6/2022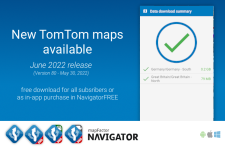 New TomTom maps (version 80 dated May 30, 2022 ) are now available for all Navigator apps, MapExplorer and OCX modules.
Navigator for Android/iOS:
Download the new maps for free within your yearly subsctiption or get it through in-app purchase in NavigatorFREE.
PC/Pocket Navigator for Windows or WinCE devices:
For new maps for PC/Pocket Navigator visit our e-shop. Discount on map upgrades for existing customers available!