News Archive
2023

2022

2021

2020

2019

2018

2017

2016

2015

2014

2012

2011

2010

2009

2008

2007

2006
News - 3/2022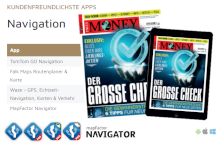 The new issue of the german FOCUS-MONEY magazine present the results of a large, independent customer survey on apps among German users. The survey was looking for the most customer-friendly apps of 2022 in Germany.
We are very pleased that our navigation app MapFactor Navigator was awarded TOP APP among navigation apps. Moreover, it is a direct user recommendation! Thank you!
But not only that. Navigator is the only award-winning, i.e. according to the survey results the best free offline navigation app, out of the evaluated navigation applications.
On page 72 and further in the 14/2022 FOCUS-MONEY issue you can find the whole article "These are the "absolutely" best applications for mobile phones in 2022 - FOCUS-MONEY has again carried out a large customer survey on the subject of apps. The tables show the top applications from 53 Industries".
You can find more about the customer survey here.