News Archive
2023

2022

2021

2020

2019

2018

2017

2016

2015

2014

2012

2011

2010

2009

2008

2007

2006
News - 5/2022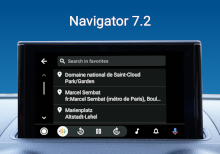 The new version of Navigator for Android brings great improvements for smartphones as well as Android Auto.
searching favourites across folders in both the app and Android Auto
searching countries in Map download manager
downloading maps in Android Auto
information on the basic advantages of OSM and TomTom map data
two new types of info panels.

More details and screenshots here.