News Archive
2023

2022

2021

2020

2019

2018

2017

2016

2015

2014

2012

2011

2010

2009

2008

2007

2006
News - 4/2021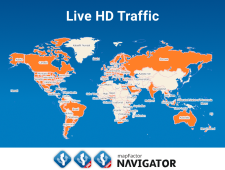 In April, 5 new world regions and many new countries with live HD traffic coverage have been added. Thus almost 90 territories all over the world can now offer this service.
The 5 new regions include:
Latin America (Argentina, Brazil, Colombia, Chile, Peru, Uruguay)
South Asia (Brunei Darussalam, India, Indonesia, Malaysia, Philippines, Singapore, Thailand, Vietnam)
Oceania (Australia, New Zealand)
North & East Asia (Hong Kong Special Administrative Region of China, Macao Special Administrative Region of China, Taiwan (Republic of China))
Middle East (Bahrain, Kuwait, Oman, Qatar, Saudi Arabia, United Arab Emirates)
The live HD Traffic feature connects Navigator to the online world, keeping the drivers updated with the current situation on their route.
For more details and the updated list of all available countries see here.