News Archive
2023

2022

2021

2020

2019

2018

2017

2016

2015

2014

2012

2011

2010

2009

2008

2007

2006
News - 3/2017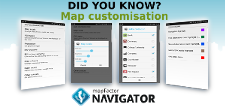 Our next "Did you know" tip discribes how you can customise the map in Navigator. You can adjust the sizes of texts, roads and icons, choose which POI types should be displayed on the map or you can change the map colours.
For more details read Did you know? 12. Map customisation.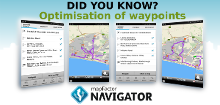 The optimisation of waypoints is another handy feature in MapFactor GPS Navigation App.
Navigator optimises the sequence of waypoints and makes the route shorter.
Read the full DYK post: 13. Optimisation of waypoints