Products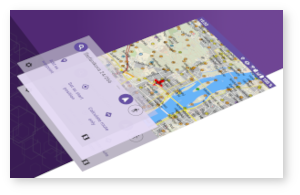 Maps & Navigation SDK (Android)
Breathe map into your app.
Enhance your app with offline maps, professional navigation and location features and help your customers move more efficiently.
Description
Take advantage of one of the best rated navigation apps by integrating MapFactor Maps & Navigation SDK for Android into your apps and add additional maps and navigation services to your customers with minimal effort.
fully offline including maps, searching, routing and route optimisation, navigation
professional navigation for all types of vehicles, incl. restrictiong for large vehicles (truck restrictions)
different predefined vehicle profiles available (cars, trucks, buses, pedestrians, bicycle, motorcycle etc.)
highly customisable
additional map extensions possible - POI display control (hiding/displaying), custom POI types and more
easy and flexible integration into fleet management and workforce apps
Kotlin and Java friendly