Support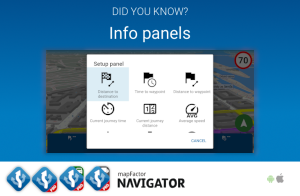 Info panels
When using the map or navigating three info panels are displayed at the bottom of the screen to show you information about your position and your journey.
Did you know that you can have more than three info panels or change the info they display?
Description
Customisation of Info panels in Navigator 7 for Android
Simply tap on one of the panels. Now you can choose to remove it, change its contents ("setup panel"), even add another panel or resize the panels.
Tap Setup panel to see a list of all kinds of usefull information that Navigator can display.
These are:
Altitude
Speed
Number of satellites
Azimuth
Position
Time
GPS date
GPS time
Linear distance
Time to destination
Time in destination
Time to manoeuvre
Distance to destination
Time to waypoint
Distance to waypoint
Current journey time
Current journey distance
Average speed
GPS accuracy
Battery level
Time (no seconds)
GPS time (no seconds)
Screenshots of Info panel customisation in Navigator 7.2 for Android
For all tips see Support - Did you know?.
Updated: 6. 2. 2023