News Archive
2023

2022

2021

2020

2019

2018

2017

2016

2015

2014

2012

2011

2010

2009

2008

2007

2006
New Maps & Navigation SDK with easy integration into your Android app now available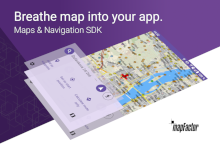 Enhance your app with offline maps, professional navigation and location features and help your customers move more efficiently.
Take advantage of one of the best rated navigation apps by integrating the new MapFactor Maps & Navigation SDK for Android into your apps and add additional maps and navigation services to your customers with minimal effort.
Visit sdk.mapfactor.com for more details and documentation.