News Archive
2022

2021

2020

2019

2018

2017

2016

2015

2014

2012

2011

2010

2009

2008

2007

2006
MapFactor Named Best Navigation App for International Use of 2022 by BestApp.com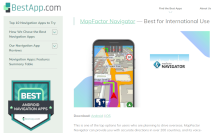 The BestApp.com platform ranked Mapfactor Navigator "Best for International Use" among the most reliable solutions for Android as well as iOS users to get around.
The review lists the Top 10 Navigation Apps to Try and compares the features, pricing and support available for these apps.
"This is one of the top options for users who are planning to drive overseas. MapFactor Navigator can provide you with accurate directions in over 200 countries, and its voice-guided navigation feature is available in many different languages as well. You can toggle between 2D/3D map mode as well as day/night mode, and this app will also warn you about speed limit enforcement cameras. ..."